Geo-referencing of Ethnic Groups
Up to date version of this dataset can be found at http://www.icr.ethz.ch/data/epr/#geoepr
Whether qualitative or quantitative, contemporary civil-war studies have a tendency to over-aggregate empirical evidence. In order to open the black box of the state, it is necessary to pinpoint the location of key conflict parties. As a contribution to this task, this data project geo-references ethnic groups around the world. Relying on maps and data drawn from the classical Soviet Atlas Narodov Mira, the "Geo-referencing of ethnic groups" (GREG) dataset employs geographic information systems (GIS) to represent group territories as polygons.
The GREG dataset consists of 8969 polygons and is provided in ESRI shapefile format.
Data
[GREG shapefile] [List of groups]
Please refer to the online appendix (see below) for details about the dataset (format, variables etc).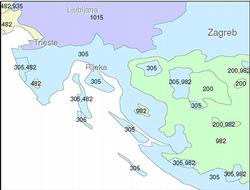 Research
[JPR article] [online appendix] [replication code (R)]
Citation
When using the GREG data for your research, please cite
Weidmann, Nils B., Jan Ketil Rød, and Lars-Erik Cederman. 2010. "Representing Ethnic Groups in Space: A New Dataset". Journal of Peace Research 47(4): 491–99.
Contact
Nils B. Weidmann, University of Konstanz
Jan Ketil Rød, NTNU Trondheim
Lars-Erik Cederman, ETH Zurich